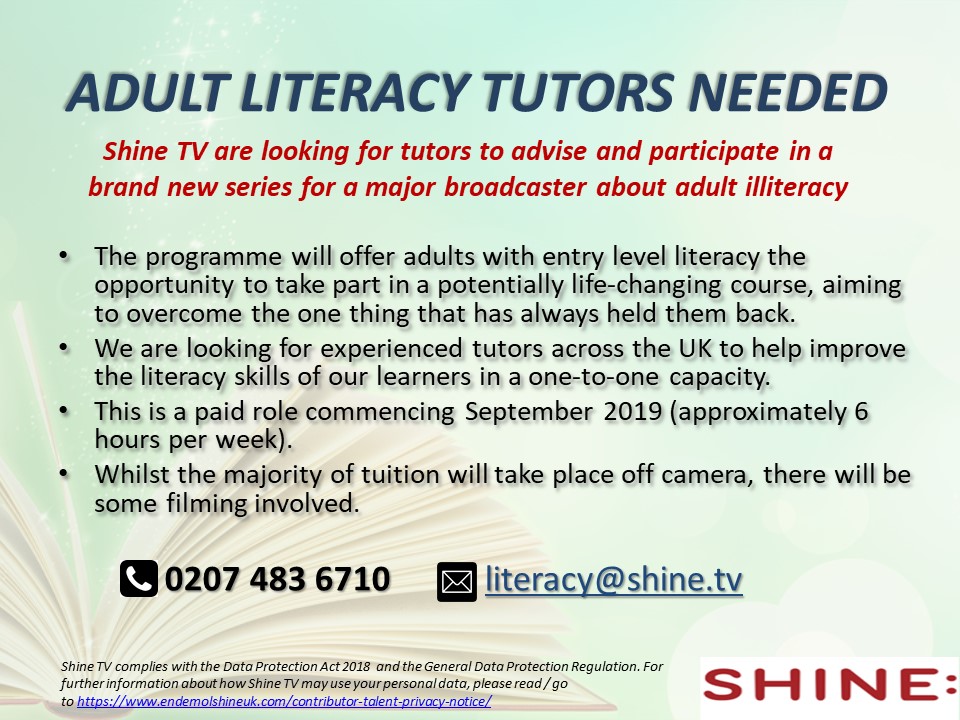 The show will feature a number of learners who want to improve their reading, writing, spelling skills and are currently sitting at a literacy level from pre-entry/entry level 1 up to entry level 3.
Shine TV are looking for individual tutors to work one-on-one with our learners for 4 months (from the w/c 23rd September- late January/ early February) for up to 6 hours per week. These are of course paid positions and they are currently looking for tutors in the following areas:
Huddersfield (we would require three separate tutors)
Stoke-on-Trent
Battersea
Ilford
Sevenoaks
Northern Ireland
While the tuition will largely take place off-screen, there may be some filming of the lessons and potential brief interviews regarding the learner's progress.
Attached flyer with more information, which can also be passed along to any other adult learning tutors that may be interested.
Anyone who is interested should contact:
Sophie Fuller
Assistant Producer
Shine TV Ltd | 42 Gloucester Avenue | London | NW1 8JD
T: 020 7483 6609 | Mobile: 07792 059996
sophie.fuller@shine.tv
www.shine.tv